Aruba's best family operated sail and snorkel cruise since 1977
Tranquilo was founded by Capt. Mike Hagedoorn whose passion for sailing was legendary. It was only natural to make of his hobby, his day job. And so he started taking guests out sailing on the Tranquilo along the coast of Aruba. He did so for 20 years before Capt. Anthony, his son, took the helm and kept the tradition alive till present day. Tranquilo means Tranquility and that is just what we invite you to experience with us. Choose from our Famous Lunch Cruise to the south side with mom's delicious Dutch pea soup and drift snorkeling at our secluded reef island "Mike's Reef ". Or choose one of many Private Sailing trips or Dinner Sails we have to offer.
Capt. Anthony grew up on Spanish Lagoon. Sailing, snorkeling, windsurfing and diving were daily routines and no one knows the area better than Anthony. The sailing trip to Spanish Lagoon is off the beaten path and drift snorkeling along the magnificent coral formations is a unique experience not to be missed.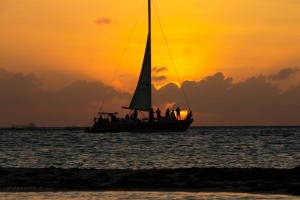 Captain Anthony Hagedoorn
Cell-Phone + 297 594 2173
Home/Office +297 586 1418